Slashdot | RIAA Drops Case, Should Have Sued Someone Else
I thought it was about that case where they're suing the guy for just ripping CD's legally onto his computer….
Newsvine – Mom Accused of Leaving Kids for Africa
Love makes such fools of us all….
Newsvine – McCain, Romney in Debate Spotlight
Newsvine – Clinton and the King
*hangs head*
Damaged Cable Cuts Internet in Mideast
Middle East and Asia lose internet access after cable fails | Technology | guardian.co.uk
How many teenage girls cried because they couldn't access Myspace?
BBC NEWS | Technology | MySpace opens doors to developers
FINALLY! Hopefully they'll fix the blog mess….
Free download: Alan Moore's Swamp Thing, Issue #1 – Boing Boing
SWEET!
Video: McCain takes Sunshine State | News | guardian.co.uk
Giuliani Completes His Collapse – TIME
McCain or Romney? If I had to choose, I think I'd go with Romney because I just don't trust McCain on illegal immigration….
Video: Madonna on becoming a film director | News | guardian.co.uk
*shudder*
Video: 'I am delighted and relieved' | News | guardian.co.uk
Slashdot | Rumors of Google and Dell iPhone Rival
Woody Allen's typography – Kit·blog – Cristian ·Kit· Paul
BetaNews | Sonic drops HD DVD authoring in favor of Blu-ray
BetaNews | Yahoo to cut 1,000 jobs, warns of an uncertain 2008
FOXNews.com – Edwards to Drop White House Bid, Leaving a Two-Person Race – Politics | Republican Party | Democratic Party | Political Spectrum
Co-pilot dragged screaming off flight
Newsvine – Rare Snowstorm Hits the Middle East
Obama delves into Kansas family roots – Los Angeles Times
Newsvine – Diana Driver's Blood Test Questioned
Mozilla fixes Firefox's flat add-on vulnerability | Defense in Depth – computer security, hacking, crime, viruses – CNET News.com
Crafty commerce site Etsy gets $27 million in funding | The Social – CNET News.com
Austin joins LED cities group | Green Tech blog – CNET News.com
Intellectual property rights: you can't have it both ways | Steve Tobak's views on dysfunctional corporate behavior – CNET Blogs
Photos: Golden anniversary–U.S. enters space race | CNET News.com
Dell to close its U.S. stores | Beyond Binary – A blog by Ina Fried – CNET News.com
TETRIS | Guillaume Reymond | video performance
OMFG! This is awesome! They also do Pong, Pole Position and Space Invaders. Yay Art!
Comics – Explosm.net

xkcd – A webcomic of romance, sarcasm, math, and language – By Randall Munroe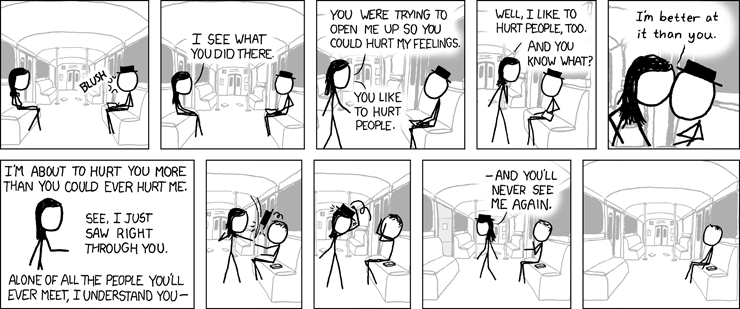 Penny Arcade! – A Narrative In Crisis

| | |
| --- | --- |
| | Bruce Tinsley |
| | |
| --- | --- |
| | Piers Baker |