My Fair Lady
It had the understudy London Mary Poppins as Eliza Doolittle, Marni Nixon as Henry Higgins' mother and an enthusiastic, Step-In-Time-esque version of With A Little Bit of Luck.
Watching this version, it was a stark realization of how much you don't want to like Alfred Doolittle, but you still end up laughing at his antics…or at least I did….
The lighting was really dim, the set was very impressive and pretty (high arches that you could see stars through!), Henry Higgins was too damn quiet….but still a production worth seeing.
---
Wedding Singer
I hadn't seen the movie before seeing the musical, but it was quite a treat seeing the caliber of performance. No wonder – it's from the California Conservatory of the Arts (David Green's post-OCHSA academy of the performing arts). Great 80's music and lots of comedy.
Then, having seen the movie (yay Netflix!), it was nice to see how the source material was treated when adapting the film to a stage musical – especially since it was done so well.
---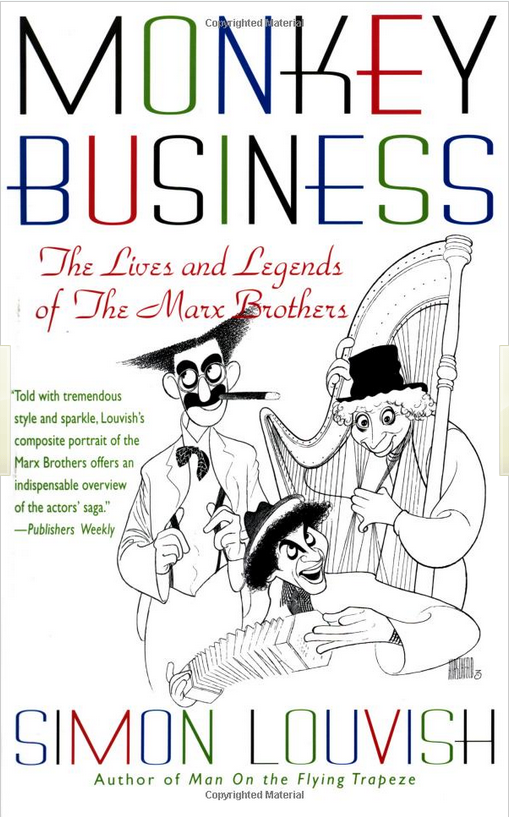 Monkey Business: The Life Times of the Marx Brothers by Simon Louvish
A fascinating and delightful analysis/expository of the lives of Leonard, Arthur, Julius, Milton and Herbert Marx (a.k.a. Chico, Harpo, Groucho, Gummo and Zeppo; a.k.a. The Marx Brothers), this book was on my shelf for years before I started having a Marx Brothers overload as it were: I saw Frank Ferrante do his one man Groucho show and some friends perform Groucho: A Life In Revue. So I chose to dig in with my own research and read this book.
Simon Louvish has done a wonderful job digging into all sorts of historical archives to isolate the truth beneath the sheen of legend that the Marx Brothers painted their lives with. From genealogical sheets to MGM script draft reports, Louvish unearths nuggets of gold concerning the brothers lives, loves and performances from vaudeville and Broadway to the silver screen and airwaves. With all the details he has collected, we see a much more 3-dimensional portrait of each of the brothers and their family. A highly recommended read for any Marx Brothers fan.
---
You Don't Mess With The Zohan
Amusing. Adam Sandler as an Israeli super-counter-terrorist: the one they call on when they want to minimize collateral damage. But "The Zohan" is tired of the endless fighting, so he comes to America to cut and style hair….and screw old women. Seriously. But he falls in love and can no longer make the "bing bam boom" with his customers and there's this whole thing about terrorists and Israeli versus Palestinians….
It's funny…
---
Get Smart
Very enjoyable comedy homage to the brilliant work of Don Adams and Mel Brooks. Steve Carrell is awesome as Maxwell Smart, Anne Hatheway is sexy as Agent 99, Dwayne Johnson (what happened to The Rock?) is violently perfect as Agent 23 and Alan Arkin is wonderfully poised as the Chief. Toss in mystery, intrigue, betrayal, double-crosses, a couple of "missed it by that much", a handful of "would you believe", Masi Oka, Patrick Warburton, Bill Murray and a smidgen of predictability and you have a delightful comedy tribute to the brilliance of Don Adams and Mel Brooks.
---
WALL-E
Pixar knocks another one out of the park. This film is a brilliant addition to the Pixar canon. The soundtrack is beautiful and epic, the visuals are stunning, the sound engineering is spot on (yay Ben Burtt!) and the story (Pixar's bread and butter) is romantic and wistful and funny and just perfect.
Yay for A113 references, John Ratzenberger (hopefully when he dies he will license his voice to Pixar so they can digitally recreate his voice patterns for future movies), Fred Willard and the PC (WALL-E) vs. MAC (EVE) battle on the big screen!
Waste Allocation Load Lifter – Earth class (or Axiom class on the Axiom) = WALL-E
Extraterrestrial Vegetation Evaluator (?) = EVE which doesn't actually make sense: why is it Extraterrestrial? It's going to Earth, terra firma! It should be Terrestrial Vegetation Evaluator unless I'm missing the purpose of the word Extraterrestrial…whatever.